Preschool Story Time
Meets every Wed at 11 am. (please see calendar for any changes)
Children aged 1-5 are invited with a parent or sibling to come listen to stories and participate in realated activies or crafts.
---
Bradley's Book Buddies
Kids reading to kids! If you are a parent of a child ages 4-10 and want your kid to be a "Buddy" call the library today to sign up. Mentors are ages 11-17 and are paid $6/hour. Mentor orientation is TBD.
---
Summer Reading-All Together Now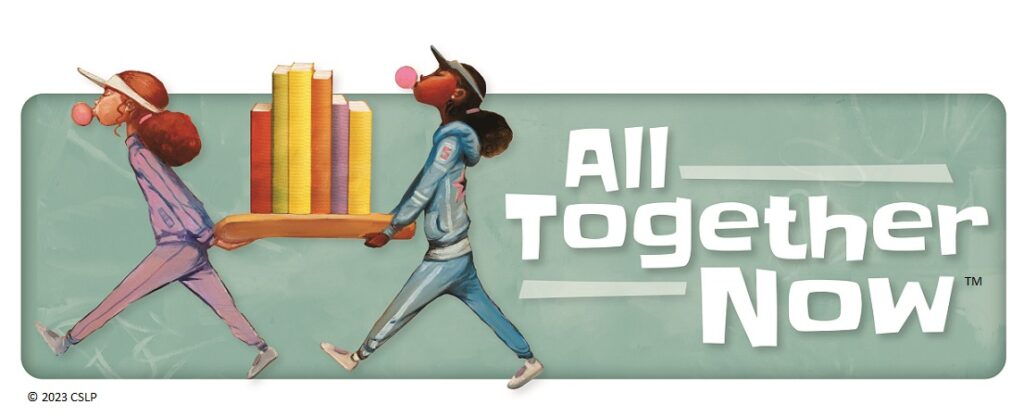 Join us in a variety of summer reading activities. Reading challenges, Special guest visitors/programs, storytime, crafts, and more!
For more information head to our Summer Reading page.
---
Reader of the Week
Submit your name in our drawing for reader of the week everytime you visit! We draw one name each week over the summer and the winner receives a goodie bag and is interviewed for an article in the Steamboat Pilot.
Check our this summer's Reader of the Week winners!
---
Bern F. Giannini Young Reader Awards – An Annual Summer Program
Each August, the library staff nominate 5 young readers between the ages of 9 to 15 and ask them to bring to a book to the interview that has touched them and inspired them to read more. The BFG Young Reader Award winners receive a certificate and a gift card to purchase books at Off the Beaten Path Bookstore in Steamboat Springs. The bookstore also generously donates two gift cards to the award program. The Young Reader Awards began in 2006 and has been awarded each year with the exception of 2020. The Library and the Friends and Family of Ms. Giannini hope to continue the tradition next summer.
Bern Giannini lived in Hayden during the summers for most of her adult life and moved to Hayden permanently after she retired. She was a lifelong reader of enormous proportions. She read biographies, mysteries, political analysis, humor, novels, just about anything on Western History or Colorado and John Wesley Powell, pretty much any book on any subject that caught her eye or that someone recommended to her.
Bern also loved talking with children. She was famous for engaging young people in discussions on real issues and for supporting their interest in reading. She gave books as gifts but more importantly she supported readers and was interested in what children were reading.
The BFG Young Reader awards are a joint project of the Hayden Public Library, Off the Beaten Path Bookstore, and friends and family of Bern F. Giannini.
---